The 2020 Christmas Gift Guide: 20 gifts every modern working woman will love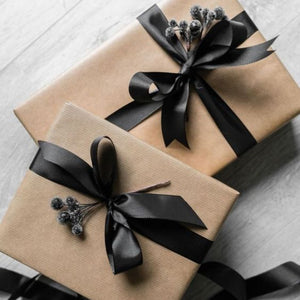 We've scoured the shops to find the 20 best gifts for the modern career woman, all of which are at the top of our Christmas lists here at Libby HQ. Tailored to the 'new normal' of 2020, these gifts will help the women you love form healthier habits and a better work-life balance in the new year – starting at just £15.99.
1. Dyson's Airwrap Styler 
From £399.99, Dyson (Photo credit: Nina Wro)
Save time and money with the Dyson Airwrap Styler, which creates salon hair at home in a fraction of the time. It comes with a variety of attachments to smooth, wave and curl hair, letting you dial into your morning meetings looking and feeling polished.  
2. PopSocket Phone Grip
From £11.99, PopSocket (Photo credit: Toy Sense)
A PopSocket is a plastic circle that you attach to a flat phone (or case), providing both an easy-to-hold grip and a convenient stand function. Pop-sockets make holding your phone and multitasking much easier and more comfortable, also minimising the risk of dropping your phone.  
3. Silk Shirt 
£148, Libby London
Every working woman needs a reliable, luxurious silk shirt in her wardrobe that she can wear all year round, at work and at weekends.
4. Restaurant Voucher
(Photo credit: Secret London)
This is a great opportunity to tick a restaurant off your bucket list and give you both something to look forward to. One new restaurant the Libby team can't wait to try is Hide, London. 
5. Pact Coffee Subscription
From £6.95 per bag, Pact Coffee (Photo credit: List)
Give her the convenience of delicious coffee straight to her door to power her through her busy schedule. Pact Coffee is renowned for sourcing gourmet and sustainable coffee. Their subscription boxes can be fully personalised – choose a bag of coffee beans, or Nespresso-compatible pods, then specify the delivery frequency.
6. Ember Temperature Control Mug 
From £99.95, Apple (Photo credit: CNET)
This ingenious mug will allow her to keep her coffee at the perfect temperature in-between her meetings. Using an iPhone or Apple Watch app, you can set the perfect temperature of your hot beverages, track caffeine consumption, save presets for your favourite drinks and more.
7. The Grape Reserve Wine Subscription
£33 a month, The Grape Reserve (Photo credit: The Grape Reserve)
Marketing itself as 'a modern wine club for a modern world', The Grape Reserve sends two bottles a month, alongside tasting notes and a recipe designed to complement each bottle of wine. Perfect for at-home date nights and unwinding with loved ones in the evening.
8. A5 2021 Smart Planner 
£19.90, Amazon (Photo credit: Amazon)
This 2021 planner helps keep track of your day-to-day schedule, but also encourages small steps to achieving goals and budgets through its design. The daily gratitude journal seeks to improve happiness and mindfulness. 
9. Apple Airpods Pro 
£249, Apple (Photo credit: Hype Beast)
Apple's wireless, noise cancelling headphones are great for blocking out background noise at home or at work when you need to concentrate or have a deadline to meet. They also offer crystal clear audio for video calls and all-day comfort. Apple offers a free engraving service so you can make your gift more personal.
10. Ring Light
£15.99, Amazon (Photo credit: Aduro)
Ring lights are beloved by influencers and YouTubers for creating professional-quality videos. Since we put so much thought and effort into what we look like at work, a ring light can maximise our ability to stand out on video calls by casting a flattering, even glow across the face.
11. Libby London Gift Voucher 
From £25, Libby London
Take the work out of getting ready for work, and gift her a Libby London voucher. We design beautiful, office appropriate clothes that she will love wearing for years to come.
12. The Willoughby Book Club Book Subscription
£119.99 for 12 months, The Willoughby Book Club (Photo credit: Hanabooktopia)
This club offers a truly personal book subscription service. Resident bookworms select a novel each month especially for you, based on details about your tastes that you fill in online. There's a huge range of subscriptions to choose from, including contemporary, classic, young adult, gardening and natural history. The food and drink subscription is great for trying new cookery books, while the couples subscription includes two copies of the same book so you can read it at the same time. Each book arrives lovingly gift-wrapped, with a special bookmark. If you receive a title that you already own, TWBC will happily send a replacement, which not all services do.
13. Portable Lumie Vitamin L Slim SAD Light
£75, John Lewis (Photo credit: Amazon)
Many people don't get enough bright light during their day, particularly in the winter. The short, dark days can trigger 'winter blues' symptoms – feeling a lack of energy, wanting to sleep more and socialise less. Even a well-lit office only provides around 500 lux, compared with the 100,000 lux of natural daylight. Slim and lightweight, the Vitamin L table lamp provides bright light all year round and is an established treatment for the winter blues and SAD (Seasonal Affective Disorder).
14. NEOM Perfect Night's Sleep Scented Candle
£46, NEOM
Nothing affects how you look or feel as much as sleep – or lack of it. The NEOM Perfect Night's Sleep Scent to Sleep candle blends 19 of the purest possible dreamy essential oils including English lavender, precious jasmine & sweet basil. The perfected combination of natural essential oils is expertly blended to help you relax and prepare for sleep. Ideal to help her unwind after a long, busy day.
15. Drunk Elephant's Been a Long Day Skincare Kit
£24, Space NK (Photo credit: Drunk Elephant)
This skincare duo is all she needs to prepare for a night of restorative sleep. The skin-refining serum sweeps dead cells and debris away, paired with a barrier-supportive, cushy whipped cream which deeply moisturises and calms tired skin.
16. Cohorted Beauty Box
£35 per month, Cohorted 
Cohorted is voted the number one high-end beauty box featuring full-sized fragrance, hair and beauty brands from the likes of Givenchy, This Works and Marc Jacobs. Every month this mini box of luxuries will remind her of you; 12 mini presents are better than 1!  
17. Peloton Bike 
From £1,750, Peloton (Photo credit: Business Insider)
The Peloton indoor bike offers the most convenient and immersive indoor cycling experience, streaming daily live classes from their NYC studio directly into your home. Up to 14 Peloton classes are streamed live every day, and if you can't tune into the live streamed classes, you can view over 5,000 classes on-demand. They vary widely in terms of intensity, length, style, music playlists, and instructors.
18. Mr and Mrs Smith Hotel Vouchers  
From £50, Mr & Mrs Smith (Photo credit: The Son of Thom)
The lack of international travel in 2020 has left many of us with wanderlust. Mr and Mrs Smith is the travel club for hotel lovers – their gift cards give access to over 1,000 boutique and luxury hotels and villas across the globe.
19. The White Company Slippers
£35, The White Company (Photo credit: The White Company)
Every working woman needs a pair of super soft slippers to wear day-in, day-out. Add a touch of luxe comfort to her working-from-home attire with these faux-fur slippers from The White Company. 
20. Olivia von Halle Reversible Silk-Satin Eye Mask 
£75, Olivia von Halle (Photo credit: Net A Porter)
Olivia von Halle's eye mask will make her night-time routine even more relaxing. The eye masks are designed using lustrous 100% 19 momme silk – ensuring the most luxurious sleep. Each mask comes with a matching silk pouch with silk ribbon ties to keep it safe between sleeps.